Commissioning a sculpture from artist Paul D'Arcy is a process of consultation and collaboration between you the client and the artist in which time is given to all aspects of the sculpture. Paul has created sculpture for private clients, architects, landscape architects/designers, public bodies, community groups and associations.
---
COMMISSION A SCULPTURE
When commissioning a sculpture it is important to remember that there is more time and collaboration required between the artist and yourself as the client. This is because the process of creating the sculptural work requires a longer consultation period to determine the concept, size, timeline, materials and budget required for the sculpture. Paul works on both private sculptural commissions and corporate/public commissions.
When commissioning a sculpture the following will be discussed and agreed before starting – location of sculpture, composition, medium/material, size, budget and delivery date.
to enquire about commissioning a sculpture.
Guide lines outlined below will give you an idea and what's involved in the process of commissioning a sculpture.
1. Consultation with you the client to discover what it is you have in mind for a sculpture.
This may also involve liaising with Architects, engineers and other public bodies ( County Council or OPW ) where necessary.
2. From this consultation a brief is drawn up and a scaled maquette is made if required to visualise the sculpture. There is also a financial costing report which gives the client various options when it comes to the actual creation of the sculpture.
3. Following agreement with the client regarding design , material and costings; the sculpture is then completed and installed on site.
Time scale : Each sculpture has a unique timeline which is dictated by the deadline for the piece, the materials required and what is involved in producing the finished sculpture.
---
to enquire about commissioning a sculpture.
---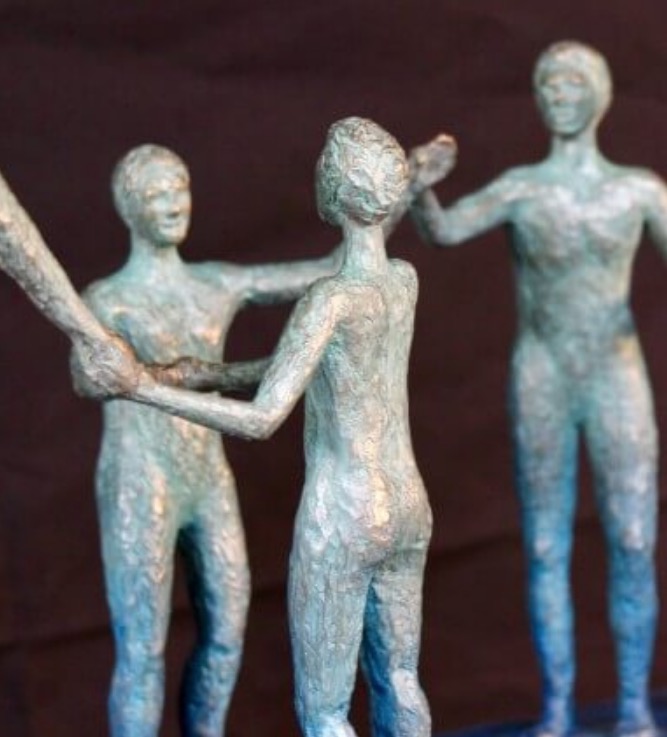 ---
Work in progress for Thomas Ashe limestone sculpture at Lusk, Co Dublin
Please feel free to contact Paul regarding any idea you would like to discuss without any obligation on your part.
…. and for the investment minded people …..
Tax Advantages of Buying Artwork in Ireland.
Capital Allowance Wear & Tear
Legislation S284 TCA 1997 states:
Section 2
Where a corporate or individual tax payer buys a work of art and displays it at their business premises for the purpose of promoting their business, the work of art is treated as machinery or plant, and is eligible for the annual wear and tear allowance of 12.5% on a straight line basis.
It is recommended that you consult your accountant in relation to art related investments and where necessary approved by the Revenue Commissioners.