Capturing that special Irish landscape can bring back beautiful memories.
The commissioned painting can be either a work from photographs completed in studio or plein air (outdoors on location). Generally a combination of the two works best. Commissioning a painting is all about communication.
Whether the painting is of a landscape , a streetscape , an urban setting or the seaside; the following points need to be discussed and agreed before starting the painting – location, medium, size, frame, budget and delivery date.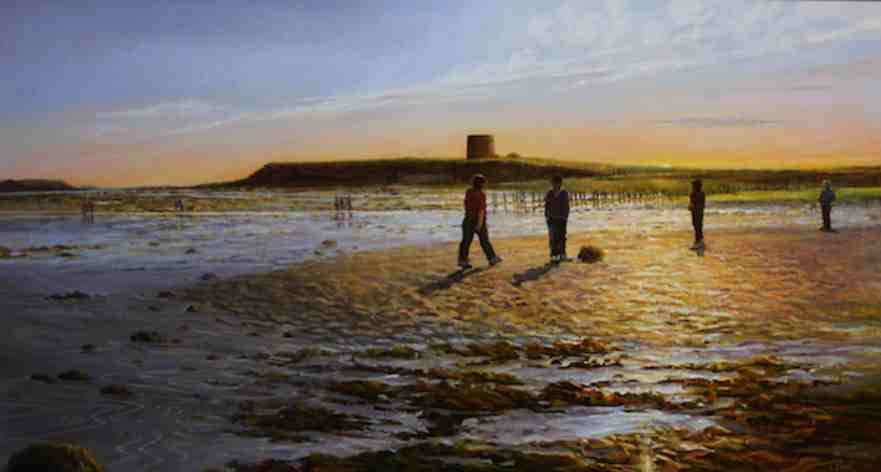 Testimonial : "Paul was an absolute pleasure to deal with throughout the entire commission. The painting, which was a gift for my wife on our wedding day, completely blew us away and it is a treasure that we will cherish for the rest of our lives." – Luke Hallinan
to enquire about commissioning a Landscape or Seaside painting.
LANDSCAPE PRICING … for an oil painting completed & framed.
Guide lines outlined below will give you an idea of pricing. Naturally if you require a specific size this can be accommodated.
1. Typically a small Landscape oil painting is 490 euro ( 10 x 12 inch canvas )
2. A medium Landscape oil painting would be 850 euro ( 16 x 18 inch canvas )
3. A larger Landscape oil painting would be 1400 euro ( 20 x 24 inch canvas )
TIME SCALE : Some paintings can be completed within a two week period but are dependent on Paul's work load at the time.
The addition of a figure/s to a landscape painting can make an artwork more personal. 'Figure in landscape' paintings increase the above quoted guide prices depending on the complexity of the composition and will be agreed before a commission is started. It is important to understand that the figure/s can only be a representation of the individual/s and are not a portrait painting.
Click here to enquire about commissioning an Irish landscape or seascape painting
Testimonial : "Paul was incredibly active and resourceful in his advice. He helped me to picture the painting I wanted. In the end, the painting was really beautiful and I am very happy with the result. We now have the wonderful painting in our living-room and a beautiful reminder of our Tanzanian safari." – Alexandre Fernel
---
Please feel free to contact Paul regarding any idea you would like to discuss without any obligation on your part.
Download PDF catalogue of landscape paintings by Paul D'Arcy.